Air Pollution and Climate Modeling

ERG has developed several models used for high-spatial resolution estimates of the transfer of air pollutants, CO2, and water vapor between the atmosphere and the land surface in complex terrain. We can modify and apply these models to meet your needs for estimates of pollutant deposition, net carbon assimilation and evapotranspiration.
Air Pollution and Meteorological Measurements
<![if !vml]>
<![endif]>
We design, deploy, and maintain environmental measurement systems for climate monitoring, air pollution monitoring, and trace gas flux measurement by micrometeorological methods. We conduct measurement programs in conjunction with model development for specific applications and locations. We also can train your staff to operate a measurement system and provide software tools for data analysis.
Ecosystem Measurements and Modeling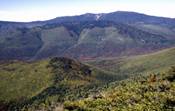 ERG develops and applies models for simulating ecosystem processes and biogeochemistry at the stand, watershed, and regional level. We also make the field measurements and develop the geospatial databases necessary to parameterize and validate models.
GIS, RS, Spatial Analysis and Modeling

We provide a broad range of GIS and spatial analysis services including: geospatial database design and development, development of custom spatial analysis and modeling software, distributed ecosystem process modeling, interpretation of remotely sensed imagery, ground-truth assessments, ecosystem inventory, cartographic design and production.